Pin It now!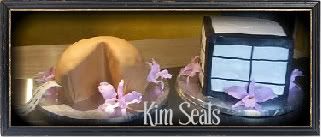 I made these cakes for an Asian themed bridal shower. The guide you would be purchasing will give you instructions on how to make the
Fortune Cookie Cake only
. The
How to Make a Chinese Lantern
cake guide was written separately.
To make this cake you will need...
14 inch, round, silver cake board
Two 10 inch, round cakes
White gumpaste
3-4 orchid flowers (instructions for flowers not included)


This is all you need to make the flowers. For best results, mix the gum paste with some fondant so it does not dry as quickly. The flower kit is a great investment for any cake decorator. Trust me, you will use this more than once.
Directions:
Step 1
A few days in advance, roll out white gumpaste and cut a rectangle shape for the fortune.
***Decorator's Tip***
When cutting rectangle shape, keep the 10 inch cake pan near by in order to make sure your proportions are correct.
Step 2
Bake two 10 inch, round cakes. Level one of the cakes then fill and stack both cakes on the silver cake board. When stacking, the top cake should stay rounded and NOT level.
***Decorator's Tip***
After this step, freeze the cake to make it easier to carve.
Step 3
Cut out a triangle shape out of the cake and trim cake off the top to give the cake a smoother look. Keep trimming the top and triangle cut out until you are happy with the shape of your fortune cookie.
Step 4
Color the fondant tan (you could also leave the fondant white and airbrush it later). To get tan I used a combination of brown and ivory.
Step 5
Ice the cake with buttercream icing.
Cover the cake in fondant.
***Decorator's Tip***
You may need an extra set of hand to help lay the fondant in the cut part of the cake without tearing.
Step 6
Write your message on the gumpaste fortune and place it on the side of the cake. Then, place your gumpaste flowers around the cake.
***Decorator's Tip***
If you are transporting this cake, you may want to wait until you arrive at your destination before putting the fortune and flowers on the cake.
____________________________________________________________________________________________