Pin It now!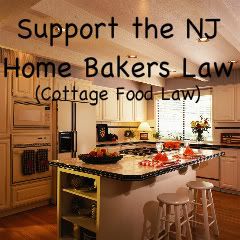 Grace has come up with a template for us to use when writing our representatives. First, view the 2010-2011 NJ Legislator Roster (
http://www.njleg.stat...
) and find your representatives. Then just copy, paste, and personalize the letter below. You are not limited to your districts representatives. The more you contact the better! If you would like to thank Grace for all her hard work and help fund her efforts you can donate money to her below. I will send her all the monies I collect at the end of each month and plan to share 1/2 of my advertising profits. Don't forget to share this post with all of your NJ baker friends!
____________________________________________________________________________________________