Pin It now!
CSN stores has recently given me the opportunity to review the CucinaPro Pasta Fresh Machine (retail value $41.99) and Trenette Pasta Attachment (retail value $17.99). Pasta machines can be very useful when it comes to rolling out fondant. I have to admit, it did make a bit of a mess but, it definitely cut my decorating time in half.

My Experience

I cannot say enough that I was very excited to review a product like this. I absolutely love kitchen gadgets that are useful in both cooking and cake decorating. A pasta machine is definitely one of those items so there is no need to feel guilty about spending the money. Before I begin, I would also like to mention that this is my first time EVER using a pasta machine. It was a bit of a trial and error experience and probably the reason for the huge mess it left my kitchen. Check back again soon because I will be updating this post with my 2nd experience.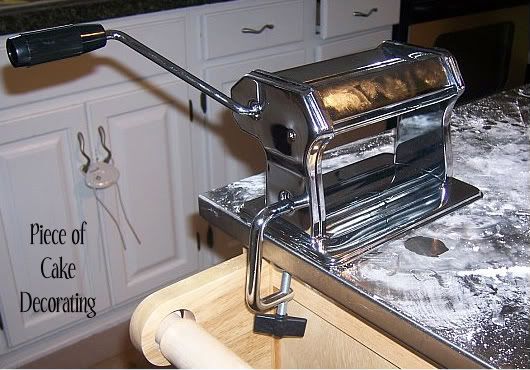 My first step was to clamp the machine to the counter and generously coat it with powdered sugar. This prevented the fondant from sticking and made a little bit of a mess.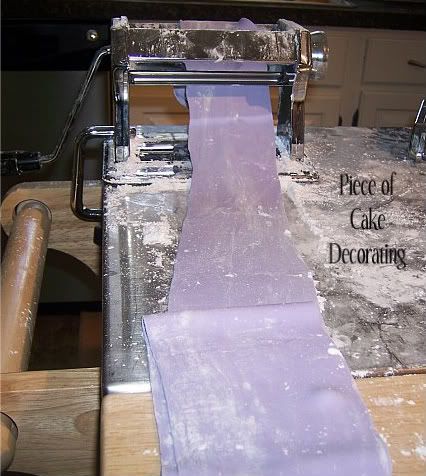 Before moving on, I kneaded the fondant so that it was pliable and ready for decorating. I then set the machine to setting #7 (the largest setting) and sent the fondant through. That was it...The fondant was ready to be cut or shaped any way I desired. In this case, I cut it into long strips and made ribbon roses which you will see on the finished cake.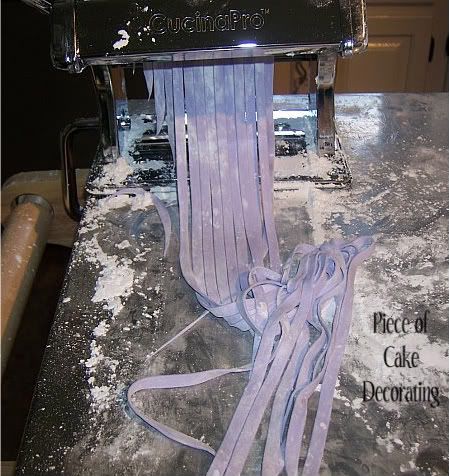 I also wanted to try the pasta attachment. The fondant pasta I will be specifically making is trenette pasta. My thought was that if everything worked correctly, I will be left with long, even strips of fondant. To do this I sent another piece of fondant through the rollers. It was still too big to use the attachment so I lightly rolled it up, set the machine to setting 5 and rolled out the fondant again. It was now ready to send through the trenette pasta attachment. At this point I lightly rolled up the fondant again making sure there was enough powdered sugar to keep it from sticking to itself. I then dusted the attachment and sent the fondant through. As you can see from this picture, it worked exactly as I planned. I used these strips to make stripes on the side of this cake.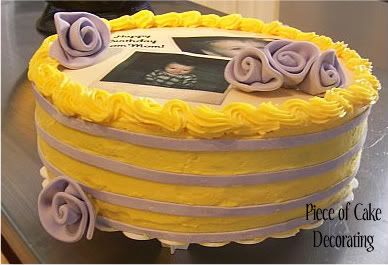 This pasta maker was a big help and is definitely something I will use again. During the quick process, my only frustrations were the huge mess and the fact that the handle kept popping out and falling on the ground. But, as I mentioned before, this could be due to my inexperience with pasta machines.
Here is a picture of the final cake that was made using this pasta machine. It was easy to use and I highly recommend this product to anyone looking for an inexpensive pasta machine. To purchase this product visit
www.csnstores.com
.
____________________________________________________________________________________________