Pin It now!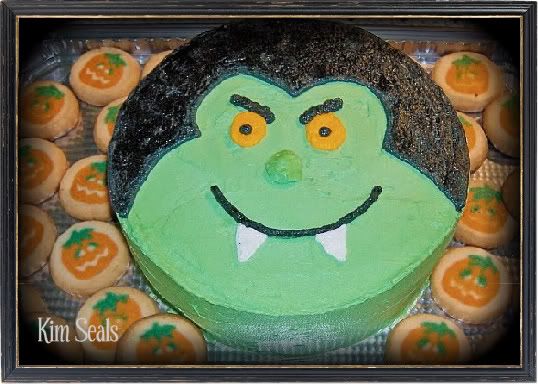 In this guide you will be given step-by-step instructions on how to decorate this cute vampire cake.
I know it seems early but Halloween will be here before you know it. If you are planning a party this year, don't forget the cake! Between HBO's True Blood and the Twilight series, Vampires are all the rage right now. Here is an easy vampire cake that just about anyone can do.
To make this cake you will need...

2 10 inch round cakes
Green, black, yellow/gold and white
buttercream
icing
4 Tips # 5
Recommended products: It is very difficult to make true black. When I only need a small amount like this, I always buy pre-made black icing.
***Decorator's tip***
If you do not have four #5 tips, do not worry. You will get the same effect using tips #4 or 6. If you do not want to use a tip at all, just cut the end of the piping bag to size. It will work just as well but your lines will not be as tight. This techniques works best for piping the eyes and nose because of their shape.
Directions:
Step 1
Level, tort and fill
the cakes. They can be placed on a 12 or 14 inch cake board. In this picture, the cake is placed on a large cake board with Pillsbury Pumpkin Sugar Cookies scattered around for added decoration. Ice the cake with your green buttercream icing.
Step 2
Using a toothpick, outline the vampire's hair. Next, using tip #5 and black buttercream icing, pipe the outline of the hair and fill in with tight lines.
***Decorator's Tip***
To smooth out the striped effect you get from filling in an outline using a piping bag, simply put a little cornstarch on your finger and gently pat it flat. Most of the cornstarch will fade into the icing but the excess can be brushed away with a decorating brush.
Step 3
Using tip # 5 and yellow icing, pipe the eyes on the cake. Add the pupils using the extra black icing.
Step 4
Using tip # 5 and green icing, pipe the nose. Next, add the mouth and eyebrows with the left over black icing and the teeth (tip #5) with white icing.
____________________________________________________________________________________________