Pin It now!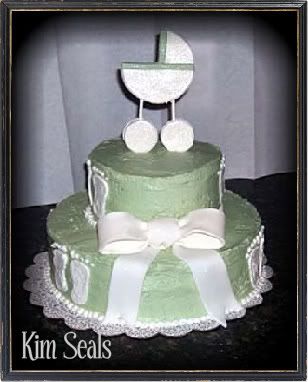 This is a great baby shower cake when the parents do not know the sex of the baby.
To make this cake you will need...
12 inch round cake board
10 inch round cake
8 inch round cake
Tips # 3 and 5
Wooden Dowel Rods
2 lollipop Sticks
White and sage green gum paste
White pearl dust
Directions:
Step 1:



A few days in advance, make the gum paste bow and stroller.
***Decorator's Tip*** Click here to purchase a gum paste stroller otherwise follow these instructions. To make the stroller, cut 2 large circles and 4 small circles out of white gum paste. Cut out ¼ of each of the large circles to make the body of the stroller. Once the gum paste dries, sandwich the lollipop stick between the body of the stroller and the wheels. Remember to let some of the sticks hang below the wheels so that you have something to stick into the cake. In order to get the lollipop sticks to stay you will have to wrap the parts touching the stroller in gum paste and wet with water. Once dry you can stick on the sage green details and paint with pearl dust.

Directions to make the gum paste bow can be found here.

Step 2

Bake, level and fill 10 inch and 8 inch cakes. Then, place it on the 12 inch round cake board.Ice the 10 inch cake with sage green buttercream icing.
Step 3

Place 4 wooden dowels into the cake in order to support the top tier.

Step 4

Place the 8 inch cake onto an 8 inch card board cake board. Ice the cake with sage green buttercream icing and place on the center of the 10 inch cake
Step 5

With a sharpened wooden dowel, hammer through the center of the cakes to secure the cakes together. Ice over the exposed dowel.

Step 6

Using tip #5 pipe a boarder around both tiers.
Step 7

Cut out ribbons for the bow and place onto the front of the cake as desired. Next, place the bow on top of the ribbon. Dust with white pearl dust for added shimmer.
Step 8

Using tip # 3, pipe footprints on the sides of both tiers.

Step 9

Place the stroller on top of the cake.
____________________________________________________________________________________________