Pin It now!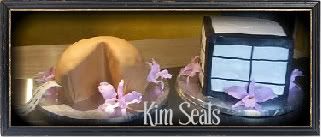 I made these cakes for an Asian themed bridal shower. The guide you will be reading is for the Chinese Lantern Cake only. You will be given step-by-step instructions on how to properly support this cake as well as tips for decorating.

You can purchase the
How to Make a Fortune Cookie Cake
separately.

To make the lantern cake you will need...

14 inch, round, silver cake board
4-5 9x9 inch square cakes (number of cakes depends on how high you want the lantern)
2-3 cardboard cake dividers
Wooden Dowel Rods
Rolled Fondant - Black

3-4 gum paste orchids (instructions for flowers not included)
This is all you need to make the flowers. For best results, mix the gum paste with some fondant so it does not dry as quickly. The flower kit is a great investment for any cake decorator. Trust me, you will use this more than once.
Directions:
1) Bake, tort, and level your cakes. To ensure proper support you will need to put 2 cakes on a cardboard cake divider. So, stack the first two cakes on the silver cake board, the next to cakes on a cardboard divider and the last cake on another divider. (See our post on How to Place Dowels in a Cake if you are unsure how to place dowels in a cake.)
***Decorator's Tip*** Cut and tape wax paper on the bottom of your cardboard dividers so they don't stick to the cake below it.
2) Place 4 wooden dowels equally around the cake on the silver cake board. Place the 2 cakes on the cardboard divider on top.
3) Sharpen 4 more dowels and put them equally around the cake. This time you will use a hammer to hit the dowel through the cardboard divider and to the silver cake board so be sure to place the dowels so that they will not hit the dowels below them.
4) Place the last cake and divider on top. Then sharpen one last dowel and drive it through the center of all of the cakes until you hit the silver cake board. This will keep the cake from tipping over.
5) Cover the entire cake with white butter cream icing.
6) Cut thin strips of black fondant and place them on the cake to match the picture.
7) Place flowers around the cake.
***Decorator's Tip*** If you are delivering this cake, it is best to wait until you arrive at your destination to place the flowers on the cake.
____________________________________________________________________________________________