Pin It now!
This is one of my favorite cakes and it was fairly easy to make. I think this would be a great cake for a beginner.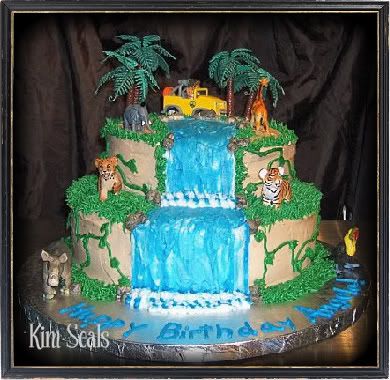 Round silver 12 inch cake board
1 8 inch round cardboard cake board
Wooden Dowels
Jungle animals
Diego topper or toy
Jungle tree toppers or toys
1 10 inch round cake
1 8 inch round cake
Wilton tips 3 (2 of them), 5, 20 or 21 (star tip), 233 (grass and hair tip), and 67 (leaf tip)





**Decorators Tip** Use couplers when piping on this cake. A coupler will allow you to change tips without changing piping bags.
Directions:
Step 1:
Level, tort, and fill cakes. Next, place the 10 inch cake along the back edge of the silver cake board and cover with light brown buttercream icing. Then, place the 8 inch cake on the cardboard cake board and cover with light brown buttercream icing but do not place on top of 10 inch cake yet.
Step 2:
Place 4 wooden dowels towards the back center of the 10 inch cake. You will need to stick the dowels in to measure, then take them out and cut to size. Once cut put them back into the cake. These will help support the top tier. **Place the dowels in a small circle, leaving a space in the center for the final dowel. **
Step 3:
Place the 8 inch cake on top of the 10 inch cake and dowels. As mentioned above, put the top tier towards the back of the cake so we are able to add the waterfall later.
Step 4:
With a toothpick, outline the shape of the waterfall and lake at the top. Once you are happy with the outline, pipe blue buttercream icing onto the cake with tip number 3 (make sure to use a coupler). To make the icing look like flowing water, take your spatula and make the icing uneven. Now change to the star tip and pipe the splashing water at the bottom of each tier.
Step 5:
Using your other tip 3 and a coupler, pipe green vines on the side of the cake. Then, change to your leaf tip and pipe leaves on the vines. Switch again to your grass tip and pipe grass around the edge of each cake and around the lake and waterfall.
Step 6:
With the gray buttercream icing and tip 5, pipe rocks around the lake and waterfall. Finally place the animals, Diego, and trees on the cake.
____________________________________________________________________________________________