Pin It now!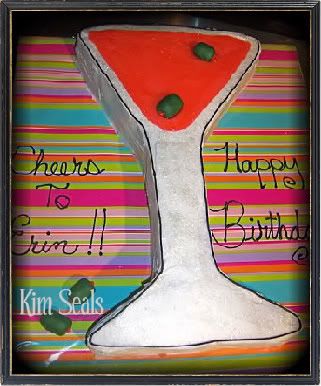 This is a great cake. It is hard to see in the picture but the top of the cake is covered in edible glitter to make the white parts of the cake look like glass.
You will need:
1 cake board
parchment paper
disposable or reusable piping bags
tip #'s 2, 3, and 5
1/2 a sheet cake
1 tube of Wilton black icing
1 tube of Wilton red icing
Edible glitter
Piping gel
pink paste coloring
green fondant
Directions:
*Decorator's Tip* To make a colorful cake board I simply use foam core board covered in wrapping paper and cellophane.


Step 1
Level out the cakes and stack with buttercream in the middle. This cake will be difficult to make with any other filling as you will need to carve the cake in the next step.


Step 2
Using the parchment paper, make a martini glass template. Place the template on top of the cake and cut. If you are feeling confident you can carve the cake by eye.


Step 3
Ice the cake with white icing.


Step 4
Color the piping gel with the pink paste coloring. Place in a piping bag with tip #5 and pipe onto the top of the cake to resemble a drink. Do not go to the edge of the cake.


Step 5
Using tip #3 pipe a black outline along the top outline of the cake.


Step 6
Put edible glitter on all of the top white parts of the cake. This will give the cake a glass feel.


Step 7
Make the olives by shaping the green fondant into an oval and place a small indent on each side. Then, using tip #2 pipe red icing into each indent to make the pimento

.
Reader photos using this guide...
____________________________________________________________________________________________